Coupon Details
This post may contain affiliate links for products I recommend. If you click a link and buy something I may receive some compensation. This does not change the price you would pay.
We just discovered Kerekes BakeDeco.com website, and WOW! All you professional chefs (or those of you who want high quality kitchen & restaurant supplies for your own personal use) are going to adore this one-stop shopping. Note: For this Kerekes kitchen & Restaurant Supplies promotion, no BakeDeco coupon code is needed for the Free Shipping offer – your qualified order just has to equal $49.99 or more, and you're good as gold (Some restrictions apply, and won't qualify for the free shipping, such as the Pomati T5 Tempering Machine 110V – so please see the site for all the details. It is very clear on an item when it doesn't qualify for the free shipping promotion.)
This is the very first offer we're posting here at myfavdeals.org, and there will be more! In fact, I just heard from a company representative this morning, and I'm extremely impressed at how responsive the company is. So, I did not want to delay in introducing our readers to this terrific source of tools, supplies and equipment for commercial kitchens and restaurants. Now, I don't know about you, but sometimes my OWN kitchen feels like a restaurant – especially when the family comes over, because a number of them are outstanding cooks and bakers (and professional caterers).
So I wanted to get the ball rolling here by making sure you see the BakeDeco free shipping promotion. As far as I can tell, this is a permanent promotion, too! And whoa… with more than 25,000 products in their inventory, this is just a wonderful find!
Now, they go beyond equipment like Chef's knives and apparel, cake decorating supplies, bakeware, and the like – and of course they have all those! We're talking some serious restaurant equipment, such as the Pomati T5 Tempering Machine 110V for tempering chocolate that we mentioned above (If you haven't heard the term tempering chocolate, click here! It's basically a technique to carefully control the heating and cooling of chocolate without harming the structure or integrity of the chocolate). By the way – if you want to see a more "portable" style machine, check this ACMC Table Top Temperer: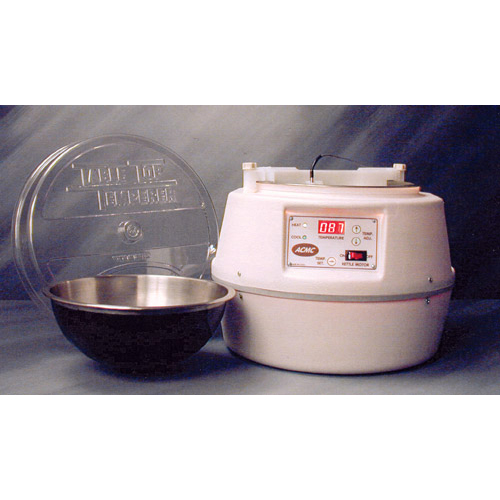 ACMC Chocolate Tempering Machine, 220V
from: Kerekes kitchen & Restaurant Supplies
You can shop by "type of equipment," for example, "restaurant food prep," "tabletop equipment," etc. One thing that you might also find very appealing is that they have a "Used Equipment" section too – very helpful for people who need to outfit their kitchens and would rather not have the initial layout of brand new equipment if used will do! We know a number of people who have gone this route, and – for example, one of my sisters-in-law who creates amazing wedding cakes found a nice used Hobart mixer more than 10 years ago, and she is still using it.
Anyway, please come back for more deals from Kerekes BakeDeco, because we love cooking, culinary arts, restaurants, baking, and FOOD in general – so we'll be staying up on this company! 🙂