Archive for September, 2016
Comments Off on Meal Time Box: The Timely Choice
Add up the expense of eating out on a regular basis or buying take-away and frozen dinners. Financially, there are costs associated with the inflated price of eating out. There is the cost of getting to a restaurant, even if you drive, plus an ever-present temptation to eat badly.
Most fast-food is sugar and fat-laden, nutritionally lacking, and leaves you feeling hungry minutes after you finish, so it is expensive to your wallet and your health. Frozen dinners are often no better; full of preservatives such as sugar, salt, and chemicals. It's not diet food you need to stave off health problems like Type 2 Diabetes and heart disease; real food will do. What other options are available to busy families or to people who are dining alone and can't be bothered to eat sensibly besides eating out?
Meal Time Box Remedy for Hunger
Here is the answer you have been waiting for: professionally cooked meals prepared that arrive at your door, ready to heat and eat. There are almost 40 of them featuring US and international recipes plus protein that covers the gamut. Meal Time Box chefs use fish, chicken, beef, and pork. There are recipes from Asia, Europe, and South America, some of them household favorites or childhood classics; others trendy additions from food trucks and modern restaurants. Right now, there is no nutritional information available, but this young company is working on the details and you will soon know the fiber count, sodium, sugars, protein, and other details relating to your meal.
Many Mouth-watering Menu Choices
Picking out just a few of the options, the variety is impressive though it lacks one thing: vegetarian food. If you are a vegetarian, there is only one source of protein and that is tofu. Also, menu pictures suggest a meal will lack the appropriate amount of vegetables. If you are going to add a salad, these meals could feed two people or last for two meals if images are accurate. Stretch one out to cover lunch and dinner. Some entries include Jambalaya, Bacon Mac N' Cheese, Beef Cabbage Rolls, Chili Potato, and Roast Beef.
How It Works
Customers have two choices: order a set number of boxes or arrange for a subscription. When you buy a box of 5 or 10 meals these come just once until you order again. Arrange a 10 or 20 box subscription and they arrive every month. The largest subscription is the cheapest and also arrives with free desserts, although no menu choices are indicated in that regard. This could be a hit-and-miss feature, but remember: the desserts are free. Who would complain about free sweets?
Although dessert is a bonus in its own right, the fact this feature is made by a company in Brooklyn sweetens the deal. Consumers these days are keenly aware of the value of sticking with local companies when they can and since New York is home for Meal Time Box, Brooklyn is close to home. Deliveries can be fulfilled in many states but not all; check to see if yours is on the list. I don't see anywhere on the Pacific Coast listed so perhaps Meal Time Box will branch further west and north soon. They deliver to states such as Ohio, Pennsylvania, New Jersey, and New Hampshire at the present time.
Ready Upon Arrival
An obvious concern is what state food will be in when it arrives. Will it have spoiled in transit? How long will it last? What if a client is not home to receive the box? All of these are sensible questions and Meal Time Box answers them. Food arrives packaged according to FDA-approved and BPA-free methods. Break the vacuum seal to microwave a dish, pop it on the stove, or stick it in the oven according to directions. You will have to take food out of its package if you aren't using a microwave.
Arrange a place for the courier to leave food when he comes if you can't be there. You might ask him to drop it with a neighbor, leave food in a cool area under the carport, or even supply a large cooler outside the door. Get food into the fridge or freezer as soon as you can and don't fret if deliveries are a little late since 8pm is the latest delivery time. Meals last in the refrigerator for a few days but can also be frozen for up to 6 months.
Is This a Diet?
Meal Time Box is not a diet company. They don't supply low-calorie meals or foods that follow a trendy meal plan. If you are trying watch your weight or avoid certain foods, select dishes carefully. Meal Time Box asks clients what sorts of proteins they want and allergy/restriction information. For example, if you can't eat wheat, dairy, or egg, let them know. These foods will be avoided. Eventually, each client develops a profile which the company follows carefully as they package each monthly box. You won't know exactly what is coming each month unless your diet is extremely restricted. At the subscription station online viewers can see what common allergens can be found in each dish so they are easy to avoid.
This Is Expensive; or Is It?
How much are you currently spending at restaurants and burger places to dine out? Does it work out to about $10 per person? If so, then you are spending too much. The cost per meal with Meal Time Box could be less than $8 per time and there is no shipping fee either. You didn't drive somewhere and were not tempted to buy food you didn't come out for. Plus, add a few raw veggies or a bagged salad and you have supper for two. Really, this is not as costly as you think. Only someone who makes food from scratch would consider the Meal Time Box poor value, and she would not need to sign up anyway. If you're not convinced and would rather not spend $60 trying something new, order a 5-meal one-time kit but sign up for Meal Time Box's electronic newsletter and receive 15% off. You aren't obligated to continue ordering after that time.
Comments Off on Introducing MouthMonsters Oil Pulling for Children
MouthMonsters children's mouthwash is an interesting new oil pulling product for children, made from organic coconut oil and other ingredients. The company has offices in both the UK and Australia.
Oil pulling has its roots in Ayurvedic medicine (3000 years old) and is well-regarded for the potency it offers. Tooth decay is not a new problem and has been around for centuries which is oil pulling has often been used to resolve this issue and enhance protective measures.
This process entails the use of natural oils to rinse the mouth of underlying toxins. It draws them out and eradicates any harmful bacteria.
MouthMonsters is a new product providing a modernized oil pulling wash children can use to rinse their mouths and eliminate toxins.
Key Features
1) Mild Oil Pulling Wash For Kids
2) 100% Organic
3) Centuries Of Proven Testing
4) Includes Vitalock Virgin Coconut Oil
5) Flavored With Natural Mint And Strawberry
6) World's Only Safe Children's Mouthwash
7) Provide Worldwide Shipping
8) Comes In Sachet Form For Easy Use And Disposal
This is a power-packed mouthwash children can use to have squeaky clean mouths. It is time to brighten their smile and encourage the utilization of this high-grade mouthwash proven to deliver results.
Benefits
What are the advantages of using this oil pulling wash? What does it bring to the table for a child? Numerous scientific benefits are making it a necessity for appropriate oral hygiene.
Here are the main advantages:
1) Removes Sugars From Oral Cavity
2) Protects And Strengthens Baby Teeth
3) Helps Prevent Toothaches
4) Removes Plaque Build Up
5) Fresh Breath
6) Eliminates Parasites And Bacteria In Mouth
7) Whitens Teeth
8) Reduces Toxic Load On Teeth
These are some of the main advantages associated with MouthMonsters and what is provided using this solution. It is a must to include this in a child's routine to better their smile and increase the health of their teeth.
Why not include this as soon as possible to provide a meaningful solution that works in the long-term?
Simple Use
How does one go about using this mouthwash? It comes in sachet form and is easy to pull out and use.
It is a four-step process for a child who is going to be using this mouthwash. These steps are going to include:
1) Pour Warm Water Over Sachet (Closed)
2) Tear Off Top Of Sachet
3) Pour Contents Into Mouth And Swish For 5-15 Minutes
4) Spit Into Bin And Brush Teeth
It is something a child can do without having to think long and hard. It is easy and adds tremendous value to their long-term health.
Vitalock Method
This is a patented method used for extracting coconut oil. It maximizes the quality of MouthMonster's ingredients.
The best oil pulling product can only provide results when its core ingredients are organic and of the highest quality. With the "Vitalock" process engaged, MouthMonsters can maximize its ingredients and provide full value with every sachet.
It ensures consistency and enables adults to understand what they are providing children when putting in front of them.
This is a well-tested process and provides 100% organic results every single time. Only the best ingredients are used, and it begins with this patented process.
Adults Can Use It Too
What about adults? Is this reserved for children only? No, it can be used by everyone!
This is the magic of a natural solution such as this. It is made for all humans who want natural, high-quality teeth.
This is mouthwash that can replace any solution on the market and provide excellent results. The flavor is excellent and can provide a new twist to what is being done for oral hygiene purposes. It is safe enough for pregnant women to use as well.
This is the perfect compliment to any brushing routine a person has during the day.
The company also sells an "adult" version which is stronger named MintyCoco. More on this below…
Coconut Oil From Sri Lanka
Where does the coconut oil come from? It is harvested in Sri Lanka from the best farmers in the world. World-class processes are employed to make sure things run in a consistent manner, and the oil pulling remains efficient every single time.
There are regular tests done ensuring quality control.
Combined with the "Vitalock" method, this is a powerful ingredient which is not only authentic but potent at the same time. It is the number one oil pulling solution for those who are expecting nothing but the best.
MintyCoco
What else does this brand have to offer those who are looking to maximize natural ingredients? The company has also released a product named "MintyCoco".
This is an excellent product, which goes along with all other oral hygiene products. This is made for the purpose of adults. It is a stronger mouthwash using the same methods employed for MouthMonsters.
MintyCoco is a great addition to one's routine and will prove to be equally effective. No additional ingredients are added to this mouthwash ensuring optimal results every single time. Adults who want quality will know this is the mouthwash to go with.
The Rainbow Centre In Sri Lanka
What makes this company unique? Is it the products alone? No, there is a lot more going on behind the scenes ensuring the world is a better place for everyone.
The company has donated its time and money to improving "The Rainbow Centre" in Sri Lanka, which is a registered charity supporting children living in extreme poverty. The charity helps children receive food, shelter, clothing, and educational resources.
The company prides itself on going the extra mile to assist those who provide it some of the finest coconut oil in the world.
If it is time to change an oral hygiene routine for children and adults, this is the option to go with. It is a power-packed mouthwash and provides world-class protection against plaque and bacteria. Why let these things fester on for long periods, when corrective measures can be taken?
A simple 5-10 minutes with this mouthwash is going to be significant in the long-term. It will provide meaningful value to those who want to have healthier, beautiful teeth. This is the option to go with for children and adults alike because it is safe, organic, and proven.
See our listings and any MouthMonsters coupon codes HERE!
Comments Off on What The Heck Are Nootropics?
Say what? You haven't heard of "Nootropics?" Don't worry – neither did I until fairly recently! Nootropics is the title being given to a few drugs and supplements that are supposed help to improve cognitive motor function and perhaps more importantly, contribute to easing the symptoms of Alzheimer's, Parkinson's and Huntington's as well as ADHD. In spite of inconclusive research, they are becoming more of an option for easing such symptoms mentioned above.
The actual word Nootropic is a term that is frequently used for any supplement that a person takes to work for the brain function and cognitive ability.
If a product helps the person to focus or improve their alertness and relax, it is considered to be a nootropic.
The actual word Nootropic is Greek for "Toward the Mind." As supplements are taken the goal is to improve the memory and function of the mind.
As more research is being done constantly, many are jumping on board in hopes of finding ways to reduce such symptoms with minimal side effects. Unfortunately, many of these supplements have serious side effects so more research is underway to help find how these drugs can be improved to help increase the good of the supplements and reduce the bad side effects.
What Are Nootropics?
In the United States, there are many dietary supplements that are safe and reliable for treating cognitive motor function as well as memory. There are also drugs that are stimulants that are believed to help improve the memory as a side effect.
According to a new law in the United States, if such supplements contain any drugs that claim to prevent or treat such conditions, they are now illegal. This leaves a lot of the information open to interpretation by the user which can be a dangerous way to determine if a supplement is safe to use for specific conditions.
Used to help alleviate cognitive motor conditions, these nootropics come in a wide array of forms and potencies that are believed by many to help such conditions. However, without the proper research, these supplements may or may not be helpful in treating these patients.
The Research on Nootropics
According to research, supplements may help mental/cognitive function, focus, memory, and other symptoms that frequent patients who struggle with Alzheimer's, ADHD, Huntington's and Parkinson's disease.
They may improve how the brain functions and they may help to stall symptoms from worsening in patients of the above-mentioned conditions.
Other pharmaceuticals such as Adderall, lisdexamfetamine, and other amphetamine classified drugs may also be of benefit for such conditions. Interestingly, such drugs are frequently used for those with ADHD symptoms.
Researchers are always trying new drugs and combinations of drugs to help reduce symptoms and alleviate what they can in patients who are struggling with these health issues.
Some drugs and supplements can cause a myriad of serious side effects, others may not work as well on one patient as they do on others. Just as every disease and condition progress differently, every drug and supplement may have different results in patients.
Researchers want to find out why something works well for one patient and doesn't work at all for another patient so more research is constantly underway to try and help them understand how these drugs and supplements are metabolized in the body.
Top Nootropics Brands
when it comes to supplements and drugs there are many to choose from. Some are old and very traditional while others are new or hybrids of other drugs or supplements that we've known about for decades.
Brite Focus
Brite Focus is unique in that not only does it comes in three formulas: BriteSMART, BriteSHIELF and BrightSHOT, but also because real doctors are recommending it to patients.
Not only that, but the company is using real clinical trials, including double-blind, placebo controlled studies to determine if Ceretrophin™ (the technical name for BriteSMART) is effective, and the results are very promising! You can see the information about this study for yourself here at the company's page about the clinical trial.
BriteSMART is believed to help with your memory, focus, and concentration. Taken daily, this all natural formula has been available on the market for over 20 years.
BriteSHIELD protects, detoxes and restores the brain. It protects it from the daily stressors that can affect how a person perceives and deals with whatever life throws at them.
BriteSHOT works much like energy drinks work in that it helps to boost your energy midway through the day when you're starting to lag. It protects the brain from neurotoxins, free radicals, and inflammation.
All three formulas may be used together or patients may choose to use one product over the others as a stand alone product.
Either way, the product is said to improve the brain function and the person's ability to recall and remember things that once were evasive.
Click Here to See BriteFocus Coupon Codes and Specials
Lumonol
Lumonol is designed to raise the cognitive performance and enhance the memory. It helps to improve focus and speed up the time it takes the brain to remember and recall things.
The company emphasizes the ingredient Noopept (N-phenylacetyl-L-prolylglycine ethyl ester), which they say is not only promotes stress relief, but also better cognitive health and memory – which is one of the primary reasons consumers are looking for these formulations.
For those who are struggling with issues of being able to focus, if they are easily distracted or struggle with poor memory or nervousness. If they struggle with fear or slowing down their thought process, if they are feeling as if their brain won't stop and the thoughts keep coming, this product can help to reduce these feelings and more.
Lumonol allows the patient to relax and slow these thoughts and manage their anxiety. Lumonol is also designed with three specific formula's.
Choose the formula that is tailored to meet specific needs. There is the Nootropic formula that is believed to help improve the mental abilities of those who take this supplement.
There is a formula called Lumonol prep for ages 8 to teens. This is to help them to focus and improve their cognitive abilities.
Lastly, there is the Lumonol Wisdom formula for those 60 and over. It helps to improve memory, energy, and clarity.
Click Here to see any Lumonol Coupon Codes and Specials
Optimind
For those wishing to boost energy and their mind, Optimind is believed to help them achieve focus and clarity.
Being able to focus helps a person to function at their prime regardless of the hour of the day. Whether a person is a night owl or an early bird, Optimind can help them to achieve their highest level of ability regardless of the time of day.
Taken as a supplement this can help to boost energy and the ability to recall and remember what is going on.
Note that caffeine is common to formulations such as this, so take note of this if you are sensitive to caffeine.
New IQ2 Nootropic Stack: Some Real Good Brain Food
As we've been seeing, nootropics are big business, and the subject places focus on healthy cognitive function after many years of hearing about obesity and heart disease. The iQ2 nootropic breakthrough proves that a much-loved substance is good for the brain and the whole body.
Raw cacao contains numerous nutrients which perform a host of functions. Medical studies have uncovered the way this food, known and used for centuries in its native lands, acts as a natural stimulant.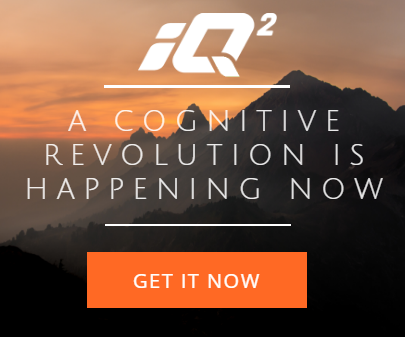 We also know why women often eat chocolate during their menstrual periods: raw cocoa is a mood enhancer and regulator. In other words, if your moods are out of balance, raw cocoa can help to stabilize them.
Antioxidants fight free radicals and raw cocoa is full of them too; more than other foods and drinks associated with polyphenols such as red wine.
Raw cacao inhibits bad cholesterol; thus, eating a little bit of it every day is an excellent way to protect the heart. Polyphenol supplements also contribute to the prevention of Type Two Diabetes and stroke.
We see the proof of these things in daily life, especially the mood-enhancing power of chocolate, but science stands behind the claims made above. Using nootropics which contain raw cacao powder has been shown to improve mental health, provide additional energy, and fight off disease.
There was no question that iQ2 would include raw cacao powder given what their research uncovered. It works with other essential ingredients to create a highly bioavailable supplement, reaching the brain rapidly. Use this supplement and expect to feel energized and focused.
What else is in the iQ2 nootropic stack?
The iQ2 nootropic supplement contains extracts which can be found naturally in salmon, eggs, bananas, apples, avocados, oranges, and more.
Some substances would normally only be taken as vitamins, such as vinpocetine for improved blood flow.
DMAE, found in fish, improves mental endurance. Choline — present in eggs — enhances memory, learning, and prevents memory loss due to age.
Most of the other ingredients also promote improved energy, concentration, and memory such as guarana, B-complex, and acetyl-L-carnitine found in dairy products.
Before applying any iQ2 coupon codes, a bottle of iQ2 Nootropic supplements will cost $59.95 for one or $49.95 on automatic delivery (plus free delivery in the US and Canada, which is a great value added service). We do know that the iQ2 Labs DOES offer occasional iQ2 coupon codes, and we place all active codes that are currently available for this product in its own spot here on the site!
CLICK HERE to see and iQ2 Coupon Codes and Specials
NITROvit
Readily available without a prescription, this product by Neuro Laboratories is believed to help patients focus and hold their attention.
Seven years ago, Archie Marks created this original formula. He designed it to help boost his neurotransmitter function, improve his memory and help improve his memory. As he worked on this product, it was also noted that it helped to improve anxiety, improve concentration and restore feelings of confidence.
NITROvit has quickly become a favorite among others who are trying to improve their memories as well as their cognitive function. Another reason that may be attributed to NITROvit's popularity if that  Neuro Laboratories is proud to announce exactly what is in the product, and they refuse to hide behind the term "proprietary formula."
Consumers know exactly what is in the product – and this is certain to engender a sense of confidence and trust. Read more about this and their other policies at the nitrovit.com site.
According to research, it shows that the supplement helps to improve ADHD symptoms, reduce the signs and symptoms of Alzheimer's and it helps to balance the brain nutrients that affect the aging process.
For those who are struggling with memory retention, this product is said to help to restore that function. It improves blood flow to the brain and restores most function to the brain.
What might be in a typical nootropic stack?
In many of the supplements we have talked about, you might see something that is often referred to as a "nootropic stack," and some of the following ingredients will be bundled together:
Ginkgo Biloba
Panax Ginseng
Choline
Alpha GPC
Acetyl L-Carnitine
Phosphatidyl Serine
Hordenine
L-Tyrosine
Vitamin B12
Guarana
In a Lumonol "Energy Blend," for example, you'll see Guarana, Hordenine, Vitamin B12 and Panax Ginseng.
In their "Focus Blend," you will see "Noopept" (N-phenylacetyl-L-prolylglycine ethyl ester), L-Tyrosine, Acetyl L-Carnitine, and Phosphatidyl Serine.
In their "Memory Blend," you'll see Alpha GPC and Ginkgo Biloba.
Is Solubility Important?
Some supplements are water soluble while others are fat soluble. If you're unsure, you'll want to find out.
Water solubles are perfect for taking or mixing with water. When they are in powdered form they will dissolve easily in water and mix well.
On the other hand, fat soluble products will not mix well with water. They will clump and not dissolve.
A solution for a fat soluble product would be to take it with a glass of milk or mix that powder into the glass of milk.
It will then dissolve and be able to mix and blend into the product so that it can be easily ingested and digested in the body.
Typically, most supplements are a fat soluble. An additional benefit to fat soluble products is that they will last longer in the body and thus provide a longer benefit to the body.
Should Nootropics Be Taken With Food?
Just as many of your medications should be taken on an empty stomach or with food, so should nootropics.
The trick is to remember that water soluble products should be taken on an empty stomach. This way they get into your system much more quickly to provide the benefits that your body needs.
On the other hand, fat soluble products should be taken with food. They will bind to the fats and process through the body much more quickly thus providing the nutrients that the body requires.
Another option for fat soluble products is to take a fish oil supplement about 15 minutes after eating. This will help give the product something to bind to and provide the body with the extra boost that it requres to process the nootropic.
Sublingual vs Ingesting
Some products might be taken sublingually. Sublingual simply means that you place the substance underneath of the tongue and allow it to dissolve or absorb.
Sublingual products pass directly into the bloodstream avoiding the liver as well as the stomach. This means that they enter the system much more quickly and will begin to work faster.
If a product must first pass through the liver or the stomach, it is going to take longer for it to process through the body. It must first pass through the stomach and be digested before it can begin to work as it should in the body.
This time frame can take a few hours in some individuals. If taking products like this it's wise to factor the digestion time in prior to ingesting so that the product is taken in plenty of time before it is required by the body.
With so many options on the market today, it's no wonder that people struggle to understand which nootropic supplement is best for their specific needs.
Trial and Error
For others, it will take a bit more of trial and error to completely determine which product is best and which one will fit their needs most closely.
Other products and supplements tout their ability to help improve the memory but they have little scientific evidence to back it up. Without hard concrete scientific evidence, there is minimal chance that these supplements can actually improve the memory, help people to focus and relax.
With commercial prescribed medications such as these, many patients find that they are misusing them. Not all of this misuse is intentional, some patients don't realize how potent these medications and drugs are.
They feel as if the medication isn't working and in an attempt to make it work they inadvertently overdose. Other times, they take their prescriptions incorrectly and thus bring other issues on to their health.
Often, patients are on the path of discovery for what will work for their needs. Some medications and supplements shouldn't be taken together.
Every effort should be taken to understand how the supplement and medications will interact. It's important that patients tell their doctor if they are taking any supplements in addition to the prescribed medications that they are taking.
Although many of the nootropics have had limited studies done in humans, they are believed to provide improved brain function.
The brain is an organ in the body that is largely unknown. It helps to manage how everything else in the body functions. From language to motion, the brain is always at work, even when people are asleep.
By providing the brain with supplemental support, the cognitive function, as well as the memory are improved.
Clearly nootropics have a lot of responsibility to the body and to the brain. Helping to clarify and maintain focus as well as improve energy and overall well being, many are turning to this supplement as a way to improve their brain function as well as their cognitive abilities and many medical conditions.
Comments Off on MiaMily Hipster Plus 3D Baby Carrier
More women would carry their babies against their bodies in a baby carrier if they didn't suffer so much back pain as a result, or worry about what it was doing to their infant's hips. The MiaMily Hipster Plus 3D carrier hopes to change all that.
Their new product is designed to support a baby's natural shape and healthy development. The company aims to relieve your sore back, too, so you can enjoy that closeness you feel from carrying an infant, but without having to lug him in your arms. Let go and enjoy your baby.
Selecting a Baby Carrier to Prevent a Hip Problem
MiaMily addresses a common complaint among babies: hip dysplasia. This is a condition frequently caused by improper positioning of the legs in a car seat, sling, or carrier. Hip dysplasia can also be a birth defect. Selecting a well-made product which addresses this concern will help provide stability in a baby's hips and prevent pain or even correct hip dysplasia as a condition experienced from birth.
The trouble is that we imagine a baby's legs should be straight, hip's distance apart, like ours. Really, they need to be bent, wide, and raised. It doesn't look natural but babies love this position.
Mommy and Daddy Pain
A carefully crafted baby carrier also relieves the stress on an adult's back, one of those typical conditions men and women suffer from until their babies are school-aged it would seem. Children want to be carried, but at least prevent strain in the early days if you can. Holding a weight of any kind close to your body is always best for your back.
Expert-approved MiaMily Hipster Plus 3D
An organization known as the International Hip Dysplasia Institute tested the MiaMily Hipster Plus 3D and approved its design. They believe this is a safe carrier for babies, one that will potentially prevent hip dysplasia in your infant. The Hipster Plus 3D supports an infant's legs in the right angle called an "M" with legs wide and knees at the same height as hips. They also believe the ergonomic style is ideal for preventing parental pain.
Details of the MiaMily Hipster Plus 3D
3D stands for "3 directions" because you can adjust the carrier to hold your baby back, front, or side. Choose whichever angle is most comfortable for you and your baby or most practical for the purpose at hand. When a baby has grown into a toddler, she is probably easier to carry on your back where there is more leg room and she doesn't need to see your face constantly. Turn the baby at your front to face you or to face outward.
One wide, soft strap rests against a parent's back or front depending on orientation. This makes it comfortable for mother or father. Wide, soft straps over her shoulders prevent digging and discomfort. Everything is fastened fully for safety at several points along the parent's body while the baby rests comfortably in the cushiony softness of the carrier.
There is even a zipper making this a fanny pack and a carrier at the same time. Store essentials and keep them close at hand; items like wipes, a small toy, and snacks for baby and parent.
MiaMily Behind the Scenes
The people behind MiaMily profess a passion for making high-quality products that parents can trust. They rely strongly on the feedback they receive from moms and dads all over the world; men and women who have helped them to create this, their best carrier yet.
Cecilia and Alessandro are the founders of this Swiss company. They proudly parent their own pair of daughters whose names inspire the company moniker: Mia and Emily. When traveling at home or abroad they want their girls at their sides, so they know how much such closeness means to other parents too.
Comments Off on Wow! VaporFi is on a ROLL!
Hey all! Thanks for tuning in to our brand spankin' new VaporFi review! This is about as current as it gets given all the changes in the vape industry lately. Anyway, as many long-time vapers know, VaporFi began operating online a few years ago as VaporZone, but changed their name a short way into the firm's history. They also run several physical stores. The Miami area is home to the firm, but stores started popping up in other parts of Florida before they spread their net into adjoining states. That physical presence is augmented by a strong online community. People shop at VaporFi from around the country using their internet commerce site and they also connect with one another socially using various social media links like Twitter and Facebook.
Connected
VaporFi has been one of the foremost companies in the area of virtual socialization and communication. They use their Facebook, Twitter, YouTube, and Instagram pages to stay abreast of what their clients are talking about, what they say about the brand, and what they want from VaporFi.
These channels are also useful for disseminating information about upcoming products and have been used effectively to develop hype about new models or upgrades of old models like their Rocket, Pro, Rebel, and VOX series (for example, as you can see in the picture at left, they are promoting the VOX Built-In Battery TC Vape MOD collection). As a result, each product is launched swiftly and successfully. By the time it's available for purchase, customers know all about it and VaporFi knows they are offering what vapers are looking for.
Top Customer Service
Being accessible to customers is one thing; the ability to communicate warmly and effectively is another. VaporFi gets full marks most of the time in this department. Their customer service team can be reached by holding a live chat on the website during business hours, calling the toll-free phone number, dropping by a store, or emailing the company using their online form. A lot of negative comments found in reviews of products have been addressed quickly and the response is featured below a customer's original comment so that other shoppers can see how VaporFi politely dealt with a customer's concern. This strategy goes a long way towards endearing the firm to vapers and their loved ones looking for an e cig company that can supply a smoker with this effective smoking alternative in a desperate attempt to end his urge to puff on killer cigs.
Product Range
If you could go back in time and see the VaporFi website as it was in 2012 then compare it side-by-side with today's catalog, you wouldn't recognize the two sites. Well, the style has not changed. Products, however, have gone through many transformations and others have left the scene. Do you remember the Air, Pulse, or Jet? Each one of these was an innovation in the way e cigs appeared but they fell to the wayside with even better innovations. Whether customers disliked them, sales were not good enough, or they were victims of progress, those three are gone.
The Pro has been upgraded twice so that customers are now looking at Version III. The Rebel and Rocket must have been crowd pleasers because VaporFi has launched third versions of these items too (Note the Rebel 3 Advanced Vaporizer kit to the right).
The Express has stayed in spite of a decided leaning towards advanced modes and VaporFi has developed a sturdy reputation as the advanced vaper's friend. Most of their catalog is dedicated to supplying mid- or high-level, sub ohm vaping. Although new vapers definitely belong here as much as the next person, they will be encouraged to ditch that less-economic means of vaping and head for loftier post-smoking heights.
VaporFi added the Orbit, an herbal vaporizer for people who prefer to vape dry materials rather than e juice. Consequently, VaporFi has enjoyed cross-over success in both the e cig and vaporizer markets.
E Juice Changes
This part of the company has changed a lot too. Firstly, VaporFi offered a series of pre-made flavors and the custom juice blending service. They even launched the latter of these using a controversial television commercial which was subsequently banned, and for good reason. It was in poor taste but got the message across (it was the now famous VaporFi Super Bowl commercial). With custom flavor building and their extensive range, the possible options topped 30,000.
The original line was ready for FDA approval pretty much from the get-go. VaporFi took a highly professional and measured approach to this side of the business, perhaps anticipating the problems that would face e juice manufacturers. They opened a regulated lab, hired chemists and other professionals to supervise mixing and bottling, selected approved ingredients (approved for the food or pharmaceutical industries as there were no e cig standards at the time), and were able to reassure clients of their purity and quality.
When the firm released APVs, changes were happening in the background. But with the launch of their VOX box mod, VaporFi also devised a new sub ohm group of products. Their Reserve line is now also being phased out, but it was replaced with an even better high-VG Grand Reserve. The result of their tweaking and attention to detail is that some companies carrying only artisan e liquids do not feature VaporFi Grand Reserve next to other top-shelf offerings. Few American e cig brands have managed such a feat, Halo being the notable exception.
Company History
VaporFi was started by people who wanted to bring customers the high standards they were lacking early in the history of this industry. When they started, a lot of cheap stuff was on internet and physical shelves. Prices were exorbitant. VaporFi entered when the three-part e cig was a thing of the past and felt like a fresh new face in the crowd. They soon overtook their competition.
The owners talk about being in this industry for a long time, although there is no such thing as a "long time" where e cigs are concerned; only relatively long. Let's just say they have experience and are deeply invested in what they do.
Let's Talk Competition
Who is competing with VaporFi in today's e cig market? Closest rivals are probably V2 and Mig Vapor. Both of these companies like to innovate, introduce new products regularly, and Mig Vapor in particular lists a huge array of products. VaporFi wins out over Mig Vapor, however, in reviews, sales, and professionalism. We'll talk more about the value of a good website, but VaporFi excels at keeping their site organized and being ruthless will old designs.
VaporFi and the Competition
Someone at VaporFi (or the website designer they hired off-site) has an eye for crisp, easy-to-read font and design. They chose bright colors but judiciously chosen contrast makes them easy to read. Images show healthy-looking but ordinary people enjoying vaping. Green and white motifs, clean and green, provide a sense that VaporFi sees itself leading from an environmental standpoint while also addressing the question of health. How will vaping help a smoker? Is vaping healthy in its own right?
Drop by the site here and you will develop a sense of well-being before reading a single word simply on the basis of web design. Actually, because we really are SO impressed by VaporFi, we created one of our MyFavDeals.org Exclusive "Quick Look" Videos to introduce you to the website, and point out just a few of the highlights that this forward-thinking company is doing. After you check out the video – it's only about a minute and a half – our VaporFi review continues below…
–>CLICK HERE<– for Current VaporFi Coupon Codes and Promotions!
VaporFi Website Organization
Why does this matter to the success of a company? Your landing page makes a first impression and the impression VaporFi creates, as noted above, is positive on several counts. Right away their professionalism struck me. This is a young industry, and to create a confident, business-like persona without losing sight of the fun and benefits of e cigs is a tremendous feat. VaporFi pulled it off.
Their site is organized so that consumers are able to quickly find what they are looking for in electronics, starter kits, accessories, and e juice categories. They sell so many products there is even a Clearance section and I always come away impressed with their selection of goodies. VaporFi is almost an all-purpose site like MyVaporStore or Beast Vape.
Extensive extras give consumers insight into general industry-related news as well as items of interest to VaporFi consumers exclusively. They post a blog, social media links, testimonials, education, videos, and more. The FAQ section is fairly good. There are numerous ways to earn points, all of them clearly explained, and the affiliate marketing scheme at VaporFi is among the most successful of all e cig affiliate programs.
Main Competition
By the time VaporFi showed up on the scene, firms like Halo, V2, NJoy, and South Beach Smoke had already become popular. Blu, Bull Smoke, 777, NuCig, Bloog: the list was pretty long and it didn't feel like the industry needed yet another contributor to the commercial chaos. V2 had held the top position on many lists; Green Smoke sometimes took their mantle. A benefit of all this competition has been the lowering of prices. Another has been improvement in quality. Why has VaporFi lasted and gone from one strength to the next? Who is competing most strongly against them?
Firms like Eonsmoke do not usually rank all that highly against VaporFi because, though their range is similarly impressive, the site is not as professionally done. It has the air of a business run from someone's basement. They need to provide more in-depth descriptions of items like e juice as well and get into the details of how and where it is made.
Halo is a stronger competitor, established and sophisticated, with 4 electronic cigarette models and one of the nation's best-loved brands of e juice. V2 has just released a new type of e cig for beginners set to compete in the mini cig market, not come face-to-face with mods. Their Pro Series 3 and 7 nudged VaporFi, but more in the market for herbal and oil vapes rather than e liquids. They have their niche. South Beach Smoke happens to be a sister company and their line-up is diverse, but not as advanced as the one at VaporFi. Volcano E Cigs is perhaps the one American e cig business that has truly embraced exciting innovation in advanced mods.
Chinese Competitors
VaporFi's strongest competitors, however, are probably Chinese manufacturers such as Innokin, Sigelei, SMOK, and Joyetech. These companies have placed considerable emphasis on providing high-tech products for advanced vapers including box mods, tube mods, TC devices, and sub ohm tanks. VaporFi appears more interested in this side of the industry than most other American firms. They saw where the trends were going before most other firms did, having sat back and entered a little late. This gave them time to process what was happening, where it was going, and to enter the market strongly.
Graduated Program for Vapers
Their Express E Cig and Pro III are nods to a less experienced market, but the loyal customers who start here can also graduate step by step through the more complex devices until they reach the VOX without going to Sigelei or SMOK to buy the next level of e cig.
As a result, vapers keep their loyalty points, enjoy the familiarity of VaporFi's reputation and quality, and they can apply points towards discounts. They support an American company and feel like part of a conversation; a community no less. Customers at VaporFi directly influence what comes next by sharing their experiences.
Personal Touch
It's not just the online market that makes VaporFi such a popular company. They pair their internet success with a personal touch, running street-level stores in the Southeast of America. Obviously, Chinese firms are not able to do that; Halo does not run any dedicated shops; and most of the other brands are available online unless some firm decides to become a distributor of the brand. Several brick-and-mortar stores carry starter kits, but they aren't solely Halo or Green Smoke vendors.
The Future for VaporFi
Florida's VaporFi shows no signs of letting new regulations slow them down. They are big enough to weather the financial hardships coming to all e cig and e juice manufacturers. VaporFi will not have to go through a lot of transition at the vape juice lab, thanks to the proactive measures they took. Much of the protocol they would need to establish to remain online and in stores and to legally function at their current level of success is in place already.
Consumers can anticipate continued innovation at VaporFi, more promotions, contests, new models of electronics and tanks, and additional flavors of e liquid. Unlike customers with some companies, VaporFi members won't be rushing to use up points, cut their losses, and make a transition to some other brand. That's good news. Clients at VaporFi are fortunate enough to enjoy consistency in every aspect of their vaping involvement, thanks to the size and forward-thinking of this major US e cig business.
Thanks so much for reading this up-to-date and in-depth VaporFi review!
To see ALL the deals we have here on MyFavDeals.org for VaporFi coupon codes or sales: CLICK HERE!
Comments Off on Our Fun Sunbasket Review – YUM! Best Organic Meal Delivery Service
Hi! It's Kathy and Martin from MyFavDeals.org, and we just had a wonderful opportunity to review the popular Sunbasket meal delivery service. This is something we hadn't been able to do earlier since they weren't yet on the east coast (at the time we originally wrote this review).
But the great news, as you may have read about elsewhere on MyFavDeals.org, is that Sunbasket expanded a couple of months ago and now DOES serve the eastern seaboard! (Here's our post about their expansion: https://myfavdeals.org/sun-basket-meal-delivery-has-expanded-to-the-eastern-u-s/)
What is Sunbasket?
Sunbasket is an organic food delivery service that packages everything you need to prepare a delicious, complete, healthful meal at home. All the ingredients are natural and organic, and are delivered to your home packed in ice. In each "basket" (or box, as you can see in the photo), you will find everything you need to create a gourmet and organic meal in your own kitchen (with the exception of utensils). The contents of the box includes:
All proteins/meats/fish
All the fruits and veggies (including garlic, onion, etc)
Sauces and/or spice blends and herbs (including fresh herbs like cilantro, parsely, etc)
Complete instructions on the Recipe Card, including a color photograph of how the meal should look
How much is Sunbasket?
Apart from any specials or promo codes, Sun Basket typically breaks down to approximately $11.49 per person per meal (plus $5.99 S/H for the week) – and you would get 3 meals. There are a variety of ways to order, including by subscription that you can pause (e.g. for vacation) or cancel anytime. You can also order as a gift for someone. So, it might look like this:
1 Person: $40.46. Breaks down to $11.49 per person x 3 meals per week (+ $5.99 Shipping & Handling).
2 People: $74.93  for 3 meals each (+ S/H) – Note that if you subscribe, S/H for the first week is free.
4 People: $143.87 for 3 meals each (+ S/H) – Note that if you subscribe, S/H for the first week is free.
We are huge fans of organic foods, and when we were offered the opportunity to do a Sun Basket review, we jumped at the chance.
In this article, we're comparing our notes as we've both now finished our respective "Baskets." And, we are also able to provide a different point of view since I just LIKE to cook, and Martin actually IS a trained chef.
In this Sunbasket Review, we share our ENTIRE experience!
How We Chose Our Sunbasket Meals
Kathy: This will be interesting! So, for me and my husband, I ordered the Paleo Sunbasket to try, and they sent 3 meals. Each meal was definitely enough for the 2 of us. What about you?
Martin: I ordered the Chef's Choice since I wanted to be surprised, and I'm not that picky. And yes, I have to agree that there was enough in each meal to feed 2 people. So, let's compare notes: the 3 meals I got were Summer Vegetable Paella, Turkey Tacos with Roasted Red Pepper Salsa, and the Chicken wings with Barbacoa Salsa Verde. You?
Kathy: I also got the Chicken with Barbacoa Sauce, then I had a Brazilian Seafood Stew and a Wild Caught Alaskan Salmon meal – the Thai-Style Salmon with Peach-Cabbage Slaw. As it turns out, I wound up filming the entire unboxing, which I'll upload to YouTube. Once I have a chance to do that, I'll post the video here as well.
But my initial impression of the entire Sun Basket presentation was very positive. I loved how it even LOOKED when I opened it – the paper bags of all the non-protein ingredients looked perfect, and there was enough ice, too. Then, they had it well separated from the next layer with the ice and cardboard.
Sunbasket Overview: We are balancing Pros & Cons
Kathy: So, I only have a couple of teeny weenie "criticisms" about the packaging if that's even the right word – because frankly, I'm having a tough time coming up with any "cons" since a balanced review is supposed to have both "pros" and "cons."
The exterior of the box itself didn't say "Perishable" or "Open and Refrigerate" anywhere on it. I had mentioned in my order that I live in bear country, and that the delivery driver would need to put the box inside my back vestibule to make sure it didn't attract wildlife. He (the driver) said he didn't see anything on the delivery about that. But nonetheless, they know me, and probably would have put it inside anyway if I hadn't been home. How did the delivery and first impressions go on your end?
Martin: I came home around 10pm after a night at the dragway to find the box on my porch. I believe you told me the date Kathy, but I didn't remember.
Kathy: Oh right – it was the 23rd… August 23rd.
Martin: Anyway, to my surprise, after sitting on my porch on a 90 degree day, for however many hours (I am guessing at least 6 hours), it was still good.
They did a nice job packing it all up, and it is in a very insulated box, with plenty of ice packs at the bottom. There was a bit leftover with packaging, yet there were simple instructions how to recycle everything, and it is suggested to keep and reuse the freezer bags.
Having an eye always on sanitation, with my culinary background, I would recommend rinsing off the ice packs if you keep them, since they are in direct contact with packaged raw food. Even though it is packaged, better to be safe than sorry.
Sunbasket Packaging
I liked how it was packed, in 3 brown bags, and with the raw stuff at the bottom. I hadn't taken the time to research what exactly a Sunbasket box would look like ahead of time. So I was excited to see the extensive ingredients included, where literally everything besides things like cooking oil are included, with neat little cards telling you how to prepare each meal.
Sunbasket Recipes and Prep
Kathy: Oh my gosh… I love the cards! Here's a photo of one of them… next to all the ingredients that I had pose for the picture. So, I guess it's time to talk about the food! Want to go first?
Martin: Sure. Okay, first up was the Vegetable Paella. This was more than enough for two people. I had three decent sized portions of it, and it was very tasty.
It is a unique dish, as there is some creativity added (not your typical run of the mill type of meal – very much California-style; I have cooked in Napa Valley in the past so I know), and I saved the rest after my first meal, and it reheated beautifully. Even the rice wasn't overcooked or soggy (they included a 'Paella Rice' which I have not seen before).
It was a great meal, and simple to prep, though for someone who's not experienced with knife skills etc., it will take them a few minutes to prep all the vegetables. I added salt and pepper, which they call for, and it was actually quite delicious.
I just needed to slice the pepper into strips, slice the shallot, and dice the tomato that was included. Then there is a bit more chopping for the finishing ingredients (olives, artichokes, parsley and almonds).
Quality and Quantity of Ingredients
They were reasonably fresh for having been shipped, so I assume they are at least 2 days old, and nothing was spoiled.
The Paella Spice had spilled inside the bag, but there was still a good amount left in the container. The spice was tasty, though it did get a bit all over everything, no huge deal though. I was grateful to have so much of the meal pre-thought out for me, and I understand what it takes to prepare and transport perishable foods.
Kathy: In one of our bags, the cumin spice also spilled, but there was plenty left in the container – So maybe one note that we can point out to the folks at Sun Basket is that the little containers with the snap-on lids might need to be taped shut. But like you said, it was no big deal.
Choosing our first meal: For us, because I felt that the shrimp might not last long enough, the Brazilian Seafood Stew is what we made first. In that photo above, to the left, on my kitchen table – those are the ingredients for the Brazilian Seafood Stew.
We really enjoyed it – and what John really liked about it besides it being good was that he got to try a traditional international dish that there's no way we could find in a restaurant up where we live. Now, if we were to go to a Brazilian restaurant and saw this on the menu, we'd know it's something we like!
I'd never tried Yucca either, and that took on the flavor of the sauce in the stew. Just wonderful! And, I should note that John burns a ton of calories during the workday, and he felt there was enough… and trust me, he can eat a lot of food!
Tip on Maintaining Quality and Freshness of Ingredients
Martin: That sounds delicious, my kind of meal. BTW, shrimp doesn't typically go bad too fast, for one because it is infused with a natural preservative – sea salt (not all fish is like that, but shrimp has an OK shelf life). And you can always poach it briefly in boiling water (like 20 seconds), and then drop it in ice water, to extend the life a little more 😉
Kathy: I knew I should have asked you! Thanks for that – TOTALLY noted for the future!
Martin: The next meal I tried was the Turkey Tacos with Roasted Red Pepper Salsa. This was even more unique of a meal than the Paella. It is definitely another Californian style meal, and definitely for those who enjoy creative, healthy meals.
As was the case with the first meal, I was again very pleased with the overall flavor, and the cool choices of ingredients. You essentially make turkey meat with black beans for the inside of the tortillas, a tomato-cucumber salsa on the side, and have Queso Fresco cheese, a Mexican/South American cheese similar to a mix of Feta and Goat's cheese. It is a nice subtle cheese for a dish like this.
For prep, it was probably 5 minutes for me of actual prep, and I think I was eating it 20-30 minutes after starting to get it ready. Here's my photo of the meal… (to the right)
Once again, very straight forward directions ( I love how they send the cards, which you can of course use again if you decide to make your own, or collect as recipe cards), and I very much enjoyed these as well.
The tortillas are corn tortillas, and they have that slightly pungent flavor that comes with an organic corn tortilla, so that definitely adds an additional flavor (unlike traditional flour tortillas).
They also had lime and cilantro to finish, which I love on these types of dishes. By the time I cooked this dish, it was maybe 2-3 days later, and the cilantro had gone bad, not a huge shock, and the rest of the ingredients were good.
Tip: Consider cooking those dishes with ingredients that are more perishable first.
I'm not sure if there could be a recommended order of cooking the dishes, for stuff like that, but my last meal had cilantro, and that bunch was useable.
Kathy: We had a few containers of cilantro too, but ours held up well. Actually, all our ingredients held up well. We totally had the "order" in mind, since 2 of our were seafood based.
Our next one was the Thai-Style Salmon and the Peach-Cabbage Slaw which was very tasty. The best part of this meal – and I think John agrees with me, is that the slaw was phenomenal! The flavors were absolutely perfect, and I actually went out and bought cashews so that I can make this again.
Of course, the fact that I have the recipe card now is great because I can just refer to that so I can make it again.
Okay – so the only thing about that meal is that there was SO MUCH cabbage that it made enough slaw to easily feed 4 people, which was fine because we both had it for lunch the next day. Man, that was good!
Oh – I have a note here about prepping the hot pepper for the Salmon meal – actually, probably for any of the meals that include hot pepper. We thought it would be a really good idea to chop those really finely so that you don't get any "surprise" or large hot chunks of pepper – unless you like that.
The instructions were to thinly slice the Thai chile (if using it – it wasn't required), but we found that chopping them really finely helps incorporate the flavors more so you don't get a mouthful of heat.
Anyway, that was a darned good meal too.
Martin: Ha ha! Yeah, I can see where that could be a surprise if you aren't used to the heat. That salmon sounds tasty, I love salmon. That also goes to show that not only are people in for some very selectively picked ingredients (most of mine also had organic labels, which I like), but also, these are not your run of the mill typical meals.
So anyone looking for unique, tasty, organic, healthy meals will be in heaven, as everyone of mine were well thought out, and all ingredients went together well.
The ingredients held up over a few days…
Okay, so my next meal was the Chicken Wings Barbacoa with Salsa Verde. I believe I cooked this the following Thursday (6 days after having received the Sunbasket Box), and they were still good!
This meal could have served two people, although it may not have entirely filled up two famished individuals. The Paella would have made a nice side though, with the one portion left over 😉
As with all the meals, I cooked this exactly as instructed to get an authentic experience, as opposed to adding my own spin on any of the preparation techniques.
I very much enjoyed this dish. It was quite spicy, which is cool with me, but definitely on the spicy side!
Kathy, if I remember, you did something alternative with the Barbacoa sauce, as opposes to coating the wings with it. I actually did as suggested, and tossed the wings in it, with the sweet potatoes laid out on the same half-sheet pan, and roasted away.
I was rather hungry with this meal, and I ate almost all of it myself. It takes quite a few chicken wings to fill someone up. It was once again, quite unique, and I enjoyed the Salsa Verde drizzled all over everything. I used all the lime and cilantro and used all of that, which may have been a little too much, but I enjoyed it.
Prep for this once again probably took me around 5 minutes, and I would say for the untrained person, maybe 15 minutes of prep are needed, depending how they are with a knife. (All meals took around this long).
They recommend 20-25 minutes for this. You could perhaps go a little longer, and cooking time will also depend on your oven's calibration, and also whether or not you use convection, so check the sweet potatoes and wings to see if they could use a little longer. I could have cooked this for another 5 minutes; it was cooked enough, though I would have enjoyed the wings just a bit crispier (you don't have to worry about over cooking chicken wings too much either, as they can go a bit longer, and some people even prefer them that way).
Kathy: Incidentally, I like the way you served yourself – nice presentation!
For our final meal, we had the Chicken Wings Barbacoa with Salsa Verde too! Now, THIS was a combo I never would have thought of, but those sweet potatoes and red onions were delicious! And that salsa verde really did add to that.
I have to say though, that I thought the Barbacoa sauce was pretty spicy! I was able to eat it – and I absolutely loved the flavor – but I think it might be pretty spicy for some folks. What did you think, because you had this one too…
Martin: Yeah that was tasty, and a bit spicy for sure! It may be a bit hot for some people. It was a great flavor also, I thoroughly enjoyed it.
Kathy: Martin, your photo of the meal was almost exactly how their photo showed it. We weren't able to really prepare the meal exactly the way that the instructions called for because:
our kitchen doesn't have a sheet pan large enough (check out my photo of my largest sheet, which is a cookie sheet that was completely loaded with the veggies – so there was no room for chicken there), and
I was squeamish about baking chicken in the same pan as the veggies.
What was your take on that?
Martin: I found they all did fit, but not lots of room to spare. Like I mentioned, I could have cooked mine a little longer, and actually, had I spaced put the sweet potatoes more, I think they would have cooked a little better. I slightly stacked them, and you don't really want to stack something like sweet potatoes to roast them, at least not too much.
Kathy: Nonetheless, the flavors were amazing, and while we didn't have any chicken left over – I can eat wings all day I think! – we did have veggies left over which we had for lunch the next day. I'll be making that again, you can bet on that! I'd love to know how to make that Barbacoa sauce too…
Martin: Yeah, that was good for sure! And, from a professional perspective, one thing I really like and would definitely put in the "PROs" column here about Sun Basket is the way they package the sauces. No guesswork! And wow… they were all really tasty sauces.
Kathy: I totally agree. Now, there is a little more guesswork, in my opinion, about measuring a few ingredients – for example, with the cilantro-lime sauce for the Thai style salmon, the directions just say, "juice the lime," and combine the sauce base with the juice – they don't say how much juice. The lime we got was awesome!
But we had no idea whether or not to use the whole lime. It was huge – and so there was a lot of lime in that particular sauce. What if another Sun Basket meal gets shipped with a small lime? So, it might be helpful to say, "Add 1 tablespoon of lime juice," or whatever the ideal measure is. What do you think about that, Martin, coming from your professional point of view?
Martin: Yeah good point, I used the whole thing because I am familiar with lime juice and similar dishes like this, but for someone uncertain, I think a rough portion size suggestion would be helpful, or just specify to use the whole lime. I was fine with it all, but someone with little cooking knowledge could use those tips so it is less confusing for them.
Kathy: I know what you mean, so it's just something that people might want to keep in mind when they get their Sun Basket. In other recipes, they did specify, "chop enough garlic to measure 2 teaspoons," for example.
But anyway, I was looking at my notes about the whole process – and I can see how Sun Basket is a really fun way to introduce organic and gourmet cooking to someone who may be a little nervous about trying something like this. It was so much fun!
If someone is looking for a very fast, pop-it-in-the-microwave meal, that's not what you're going to get with Sunbasket, because they aren't about that. This is about preparing healthy, organic and gourmet meals at home with pretty much all the guesswork removed since they have done everything except send someone over to actually cook it for you.
But, even beyond that, the meals were truly healthful and nourishing, and you could FEEL how high quality every single ingredient was!
Martin: Yes this is definitely not for someone deciding whether to break out their Sunbasket meal, or head over to McDonald's. It is for someone who enjoys a very thought out meal, with a very hand-picked feel, that wants to do a little of the preparation, and perhaps learn a few cooking ideas. Cooking skills are not absolutely essential, but a little cooking knowledge will help, and you will need to cut a few vegetables 🙂
Sunbasket Review: Wrapping it Up – Overall Summary
Kathy: At this point, if I had to give an overall summary, and do a star-rating, I'd honestly have to give it just about 5 stars across the board, with perhaps a 4 for clarity of instructions. 5-stars for quality, no doubt. 5-stars for ingenuity, too. And I'd have to say that because of how high quality the ingredients are, 5-stars for overall value too. One more thing I wanted to mention about how easy it is to order, is this: I noticed one of their meals this week included chick peas. While I love hummus and tahini, I'm not wild about whole chickpeas, so I can EASILY choose a different selection if I didn't want that one!
So, that pretty much wraps it up. Martin, any final thoughts on this? Would you use the service again? I know I would…
Martin: I absolutely would, and I just might. Going forward, I would want to prepare to cook 3 nights in a row, or at least 3 out of 5 nights. I may also glance through to see what may spoil fastest (like cilantro), and use that meal first.
It is very easy to see what is in each meal, so that would be very quick, but yeah otherwise, for someone looking for a unique, healthy meal delivery service with delicious meals, and a little bit of prep needed, I would highly recommend it (I am pretty sure all these types of things will need some prep anyways; this is my first experience of it, and I am a big fan.
It adds a whole level of convenience, as it is a bit of work, and time consuming, to shop for meals this specifically, and most of the time, you forget something.
Kathy: I'll be leaving for the winter fairly soon, and already see another Sun Basket in my near future. To the folks at Sunbasket – if you're reading this: Thank you SO MUCH for allowing us to try the service. We truly do appreciate it!
Martin: Oh, for sure! Thanks so much guys – it really was a lot of fun to try Sun Basket, and I have a feeling that a lot of our readers will agree that it's got to be about the best organic meal and grocery delivery service out there.
To our readers, thank you so much for taking the time to read this Sun Basket review!
Comments Off on Beginner's Guide To Vaping In 2016
The year has reached its three-quarter point with Halloween around the corner and Thanksgiving soon after that. If you are a UK expatriate, Guy Fawkes Day is always a lot of fun, and there is Christmas, of course.
All of these events offer some excuse for partying to those who need an excuse, and that's when e cigs are likely to come out of hiding, especially among those too self-conscious to vape in public.
Vaping is about to undergo some changes but the ones most likely to affect you have to do with choices. In other words, there will likely be fewer of them. Not to worry though: beginners still have the opportunity to try vaping for the first time without visiting a foreign country to do it.
Beginner's Guide
If you are puffing on vaporized materials rather than tobacco, you aren't smoking; this is known as vaping. Consumers use cannabis, other herbs, oils, waxes, and e juices. These products are stored in a chamber or tank and subjected to high heat from an atomizer coil or convection heater. Heat causes a material to release vapor.
Be clear here: this is not smoking because high heat stops short (ideally) of combustion; that is, you should not be producing smoke. As a result, vapers are not consuming or emitting thousands of deadly chemicals into the air. These are the chemicals which cause illness and death to smokers and second-hand smokers, harm the environment, and simply smell terrible. Vapor smells a lot better.
Choices for New Vapers
The very easiest products for beginners to get started with are e cigs or similar vaping pens. They are the size of regular cigarettes but these steel tubes contain a tiny battery, coil, and e juice, etc.
If your device is for e juice it will probably come pre-filled such as when you buy a Blu, NJOY, or 21st Century Smoke disposable product at a garage. If you buy an herbal pen from a dealer, this will not come pre-filled; you have to buy materials separately.
Downsides of e cigs like these are their power and durability: they typically have a life of a couple of hours, depending how often they are used. Batteries are low-powered, so they don't provide a full day of use or lots vapor. Granted plumes of vapor is not for everyone, and some people prefer just the right amount of vapor so they can taste it, and have a little puff of vapor on the exhale.
While equal to a pack of cigarettes or more in nicotine content according to labels, it is not the best comparison, though there is the same amount of nicotine. You have to be aware, too, that e juice doesn't taste exactly like tobacco because artificial flavoring can't completely mimic the real thing.
That being said, millions of users have found e-cigs to be quite satisfying as an alternative to smoking cigarettes.
Rechargeable Systems
Although disposables provide a great place to start, rechargeable systems are better value. Typically, the battery is plugged or screwed into a USB charging port or AC adapter. However long recharging takes is roughly the length of time the battery will last.
There are also some nice kits available that allow you to fill your own with your flavor preference, that come with everything you need.
Pictured is the Vaporfi Express Starter Bundle.
Many devices operate by puffing; a lot of bigger e cigs like eGos require the vaper to press a button. Numerous brands like V2, Halo, and South Beach Smoke provide pre-filled cartomizers. The cheaper and more varied way to go is to buy e juice and a blank tank if you can, even upgrade to a vaporizer like the South Beach Smoke Storm, Vaporfi Pro, or Halo's Triton. They give you more power, longer-lasting batteries, and a refillable tank.
Refilling E Juice
New FDA regulations are going to make big changes to this industry. Whereas there were many mom & pop stores selling homemade e juice up until recently, new PMTA costs (between about $120K and over $450K annually) will make that sort of business a thing of the past, at least in the legal sense.
A lot of firms will still make e juice under the counter. A common practice is to make something and give it away to friends, exchanging money in an informal way that isn't documented.
Legitimate, sensible business men and women will avoid this behavior in order to keep their licenses. Beginners won't notice the difference the way veterans will, but you will find there are limited numbers of e juice manufacturers on the market; just big brands sold on the larger, better established sites like Vaporfi, Direct Vapor, Halo, and Space Jam, for example.
Don't worry, though: together, they represent a huge amount of choice. Their flavor options are considerable and the good thing about such firms is that they are careful to follow FDA regulations. In fact, they were at the forefront of safety role modeling before legislation went before the US government for approval.
Buying Products
Beginners will also discover that companies are more active about looking for proof of age. It might turn out to be easier going to physical stores with a driver's license than using the internet to buy vaping equipment. New software will require consumers to take a picture of themselves and their ID to prove they are over the age of vaping consent which is the same as the legal smoking age.
As with cigarettes sales, this sort of rule is easy to break; you just get someone to buy the stuff for you. Like cigarettes, however, extra hurdles will at least make a few teens stop to think about how much they want to vape.
Online Shopping
This is frequently the cheapest way to shop, but stores in your neighborhood are great resources for information and community. These little shops, however, are going to suffer from the cost of their PMTA licensing and this could put many out of business unless consumers rally around them. It's likely that beginners will get their first taste of e cigs from a big, successful online store like Halo or V2.